If you're well-versed in the world of cryptocurrencies, then chances are you know who Joseph O'Connor. O'Connor is a highly respected advisor and cryptocurrency consultant, along with being an expert in blockchain technology and tech start-ups. With so much uncertainty in economic markets, primarily because of the coronavirus pandemic, millions of investors are looking at ways they can future-proof their investments. According to O'Connor, this is where cryptocurrencies come into the picture.
A little bit about O'Connor
A self-described blockchain enthusiast and entrepreneur, O'Connor is a business strategist and consultant on the rise. In his short time in the world of finance, O'Connor has had his fair share of highs and lows. He made over $50 000 from selling configurations before losing $20 000 in just one week when the value of blockchain fell by more than 30% in mere weeks. During those difficult times, O'Connor learnt about the nature of finance and the value of patience and preparation. He's now one of the best in the business and understands why cryptocurrencies are the way forward, along with their value to investors.
Guard your assets against further meltdowns
Changing your assets into cryptocurrencies could be a wise move in case forex markets take a massive hit, and exchange rates start plummeting. We've witnessed this over the previous months with national shutdowns bringing about exchange rate decreases and further economic uncertainty. Don't expect this to slow down anytime soon either!
Blockchain will be part of the change
Many of the global and national financial institutions are investing in blockchain technologies as a way of streamlining the use of cryptocurrencies. Using cryptography, a blockchain is like a distributed, online ledger that records transactions between parties in a verifiable and permanent way, without the need for a centralised server. As the technology continues to evolve, you can expect it to become a more central component of modern banking and finance.
Security is becoming more essential
Data security has only grown in its criticality since the 2016 US election and the Cambridge Analytica scandal. Whether it be social media, financial institutions or other big conglomerates, the security of your personal data is crucial. Blockchain technologies will have a massive role to play over the next few years in the space of financial security and autonomy.
If you want to learn more about blockchain technology and cryptocurrencies, then check out influencers like Joseph O'Connor for more information.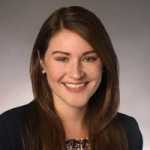 Tina Johnson helped bring The Marketing Folks from a-weekly newsletter to a full-fledged news site by creating a new website and branding. She continues to assist in keeping the site responsive and well organized for the readers. As a contributor to The Marketing Folks, Tara mainly covers industry new.