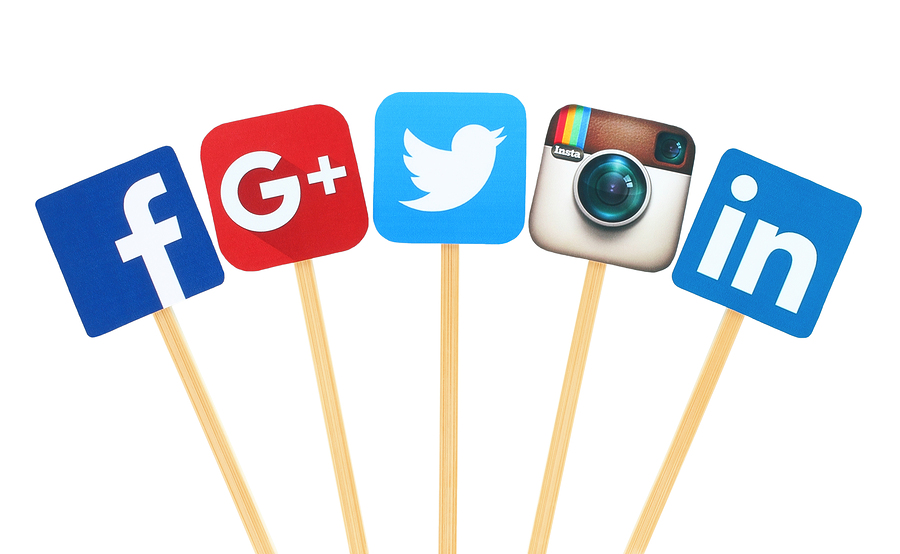 Social media is embedded into our everyday lives, and most businesses use at least one platform to target potential customers.
Creating a business page is one thing, but growing a list of loyal followers does require dedication. To help you build your audience, read these top tips for how to get more followers on social media.
Choose the right platforms for your brand
There are new social media networks popping up all the time, but focusing on a handful which are most suited to your business will see your time being invested more wisely. Popular options to choose from include:
Twitter
SnapChat
Facebook
Instagram
LinkedIn
YouTube
Pinterest
Google +
Each has their own qualities but not all will be suitable for your business model.
Top Tip: Use a tool which allows you to manage all your accounts at once, eg. Hootsuite
Be Active and Interact
To grow your followers, you have to be active. Social media is fast paced and brands need to be consistently offering something users will respond to. The secret is to create shareable, unique content while showing some personality. Stay on top of trends and schedule posts with a content plan for a streamlined approach.
Many businesses post infrequently with random statuses, but it is more beneficial to treat it as you would your blog. Posting regularly with a clear plan and frequency of quality, fresh content you will be more likely to see your follower numbers rise.
Creating a meme or status update which goes viral is not always easy, but the more often you achieve this the more followers you will gain. Focus on interaction, and reply to any comments or messages as soon as possible.
Unless you are Queen Kylie Jenner (of Keeping Up with the Kardashians fame) and have a naturally large cult audience, you will need to follow back. This is particularly relevant on Instagram and Twitter where it should be mutually beneficial.
The review function on Facebook can help or hinder your business, only switch this on if you are prepared for the results.
Top Tip: Ask yourself, what can you offer? Why should they follow you?
Build Networks
Success on social media is often a collaborative approach. Seek out influencers and follow those who are relevant as often they will follow you back. Tag other non-competitive businesses, comment and share – all while cementing your reputation as an expert who is easy to approach.
Find out who your competitors or complementary businesses follow. This will be more relevant for Twitter and Instagram where it's a follow for a follow. If commenting on someone else's Facebook feed from your brand page, make sure it is insightful and not an outright ad.
On Facebook there are a range of private business groups which allow you to network with other compatible businesses in your area. These can be particularly useful for those who are just starting out and who are looking for collaborations and ongoing support.
Top Tip: Create a post which invites current followers to "tag a friend" to encourage new followers. 
The hashtag or # is an effective way to increase the reach of your social media posts, which could result in more followers. Hashtags are used to categorise and index posts based on specific keywords or phrases. It also places these terms into specific search results.
For example, a restaurant might use the tag #melbournefood and a user might perform a search on the same term, thus leading them to this business page.
The number of hashtags you use should vary depending on the platform. On Instagram aim for around 11, but on Twitter, they suggest using no more than 2 per Tweet.
You may decide to create your own hashtag and give your followers a challenge. This could be a giveaway where they need to submit a photo of a specific product and hashtag with a link back to your page. This could be a lipstick with the phrase #kissablelips or a dog toy with the tag #happydoggy.
All the posts from the different social media accounts will then be bundled together when your chosen hashtag is searched.
Top Tip: Take advantage of cross promotional hashtag trends such as #FollowFriday or #FF
Run Promotions
To gain more followers, you may have to put your hand in your wallet. Run promotions but make sure they are part of a bigger marketing plan which includes organic and public relations efforts.
This is the time to think outside of the box and combine traditional advertising with competitions and special offers. Don't just stick to banner style ads but mix it up with video, original imagery and text. Facebook advertising is simple and effective but can be very broad, so some trial and error may be required.
Instagram advertising is becoming increasingly popular, but works best when attached to an influencer with an established, large audience.
Whichever platform you choose, the promotion needs to appeal to the demographic and social media style.
Top Tip: Monitor your marketing campaigns and gain an insight into what works and what doesn't.
Tell Everyone About It
Many brands now promote their social media pages as part of their traditional marketing campaigns. Add your handles or usernames everywhere you can. This could be on business cards, flyers, shop windows or even a product box.
Give your customers an incentive to seek you out, this could be as simple as "follow us on Facebook for an exclusive weekly deal". More and more people are installing social media apps on their phones, and the lines are now blurred between the offline and online world.
As a brand, it is time to take advantage of this and keep on their radar with a simple follow. Don't be afraid to self-promote as some of your most loyal followers will be those who have experienced your good service.
Top Tip: Don't forget to plug your social media online too, this includes your website and email newsletter and signature!
Offer something unique on each platform
Every platform has a different demographic and purpose.
For example:
Twitter is for snippets of fast information, most suited to media and celebrities
Instagram is a photographer's dream with a focus on beautiful imagery
YouTube is for creative videos and big, bold ideas
Facebook is for story sharing that appeals to the masses
SnapChat is for a younger demographic who are technology savvy and want it now
LinkedIn is for professionals looking to network
Pinterest is for creating photo boards and inspiration
Google+ is a social network which integrates with other Google products and services
What works on one platform, may not work on another. Consider what kind of value adds you can offer your followers.
A private group on Facebook for your members to chat or a series of beautiful inspiration boards on Pinterest are two examples of how a business can offer something unique.
Top Tip: Learn your social networks and what they can offer your brand
Have a consistent theme
A well organised business page is going to be more professional and encourage followers. A theme that runs throughout your timeline is visually appealing and creates a point of difference.
This could be a unique colour scheme, or by using the same background for those inspirational quotes everybody loves. Alternatively, the theme could be as simple as having a routine of similar topics, such as a featured recipe scheduled for every Friday at 4pm.
Having a connective thread throughout your posts gives potential new followers a chance to see what is on offer when they first glimpse at the business profile.
Top Tip: When using Instagram, take time to plan your images as one quality photo is better than ten blurry ones!
Use Video
It is important not to underestimate the power of video for gaining traction for your campaigns. If using video on social media, include subtitles to avoid neglecting those who may have the sound turned down!
Look for quirky ideas which will give them a reason to follow the page for more. Keep them short but interesting. Videos should be fun or evoke an emotional response from the viewer.
Top Tip: Add a watermark somewhere on your video as it may be shared and this will promote your brand.
Get some help
The world of social media can be hard to get used to, and if you are just starting out it may be wise to enlist the help of an expert.
This could be as simple as hiring someone to manage your account and post regular updates for you. Or, find a company who has experience in marketing on the preferred platform.
Top Tip: If you are enlisting the help of an expert, find someone with proven results in social media.
Don't Neglect These…
There are a few social media networks which may not be in the forefront of your mind, but they still offer a valuable service to businesses.
LinkedIn may be for professionals, but you can still generate a following and gain some potentially profitable leads. One woman valued the network so much that she had a microchip embedded in her arm to make adding new leads easier.
Additionally, Pinterest may be quietly confident but it does have its perks. Including a Pinterest button on your website can spread your news while helping you gain followers.
Top Tip: Twitter tends to be more useful for business to business brands or celebrities.
Wrap Up
Getting more followers on social media is the goal for many businesses. Creating the right mix of paid advertisements and organic followers is achievable.
It just takes a little hard work, knowledge of your target market and of course, some creativity!

Passionate about writing and sharing my experiences with others. I have a keen interest in marketing and the growth of digital.