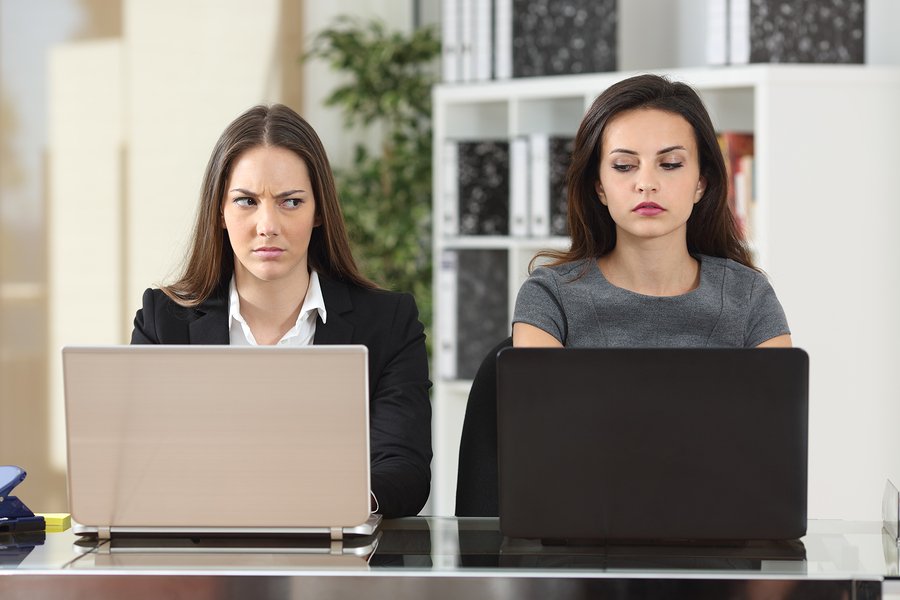 There are two central options to engage with when embarking on an online marketing campaign – search engine optimization (SEO) and pay-per-click (PPC). Do you go for the organic method that drives up the quality of your page and sends your Google ranking skywards?
Or is it better to lay down an investment for commercial space and see the revenue flow through immediately? If there was a one-size fits all approach to this scenario, chances are you would have stumbled across it by now. The best way to think about this philosophical debate is akin to someone attempting to lose weight.
They could starve themselves for days on end to fit into those pair of tight jeans. It is not a tactic that is healthy with any genuine lasting benefits, but the end goal should be reached. Then there is the other method of dieting, eating smaller portions and exercising regularly. It will take longer to hit the same target, yet the alteration in behavior will be greater in the long-term.
Let us stress though – this is not to deride the quick fix. Given the increase in competition and need to improve market position, PPC campaigns gain ground with pace. While an SEO project is spending months fitting a domain into Google's evolving algorithm, PPC spenders are getting their fix of new customers and increased traffic.
So what is more practical, less complicated and delivers the best results? Let's examine your enterprise first.
What is Your Niche?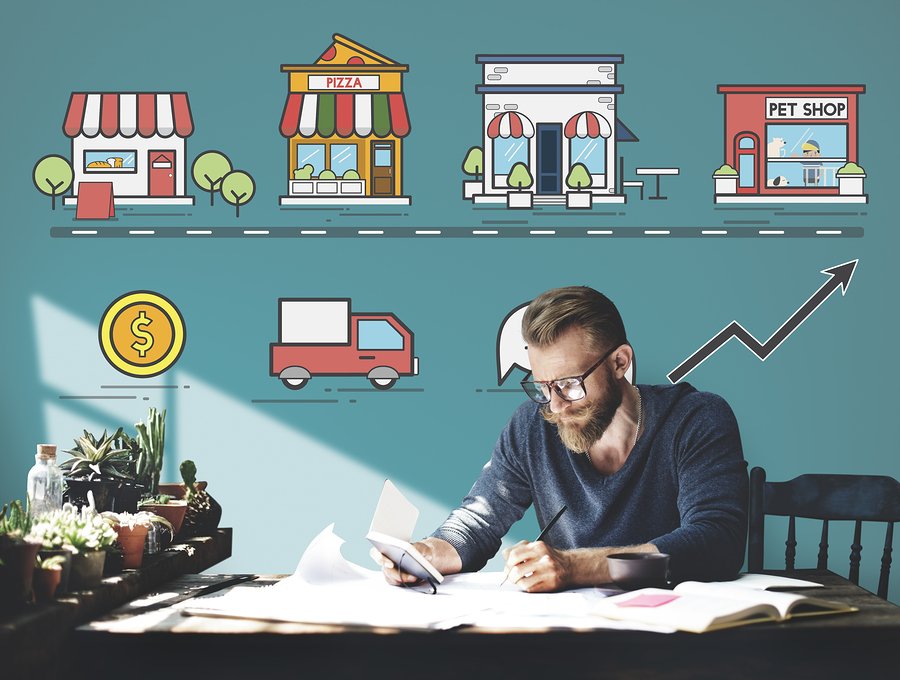 The nature of the industry you are based in will be a key indicator. SEO will apply across the entire spectrum of business – ranging from small corner store florists to large technology firms. When it comes to PPC, there are certain niches that attract greater views.
Wordstream has done their research in this area and they explain the click-through rate for industries (above the 2% search search threshold) include the following:
Finance and insurance (2.65%)
B2B (2.55%)
Consumer services (2.40%)
Technology (2.38%)
Education (2.20%)
Travel and hospitality (2.18%)
Auto (2.14%)
Employment services (2.13%)
Real estate (2.03%)
Industries that struggle to gain traction include:
Home goods (1.80%)
Health and medical (1.79%)
Advocacy (1.72%)
E-commerce (1.66%)
Industrial services (1.40%)
Legal (1.35%)
The most obvious distinction here surrounds businesses that rely on online services. With e-commerce being the exception to the rule, domains like dating, technology, B2B, consumer services and travel all require a large portion of online engagement.
Analyse carefully your niche to see if a PPC campaign is worth the ROI. Just because your industry is not overtly popular with ad space CTRs, don't rule it out. There will be legal operations that are sitting pretty among that 1.35% who are seeing great gains from their PPC campaign.
What is Your Budget?
There is a view out there that SEO is free, whereas PPC rates make it an expensive exercise. Is that an accurate stereotype? There is a rationale behind it, but it does not tell the whole story.
Examining SEO data is harder to define in purely financial terms. Should you hire a company to look over this aspect of the business, then the contract will be the guide. SEO takes time and time is a commodity that has its own price.
What is Your Timeline?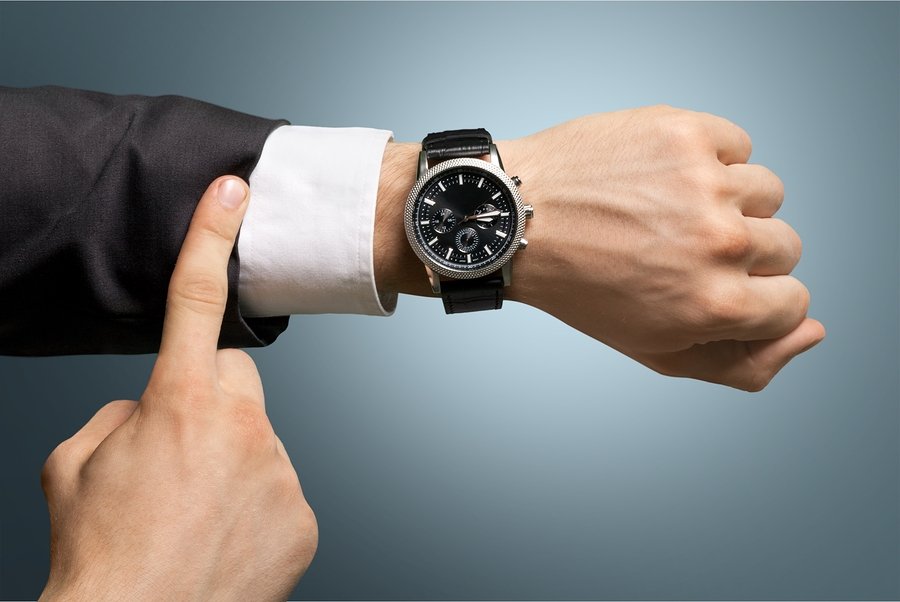 Speaking honestly, how patient are you to increase your exposure and build a lasting business? The answer to this is critical in making the final call. Should you outlay a number of months and years to develop the foundations from the ground up and test the waters, then it is fair to settle on SEO.
Here you will generate more quality traffic. That is at least what history tells us will happen. Online searches have become more accustomed to blocking, avoiding and simply ignoring paid commercials. They are inherently intrusive, despite the best efforts of search engines to integrate them by a variety of means.
Does your enterprise have the patience and foresight to see that far down the track? A minimum requirement has to be between 3 to 6 months before tangible results are seen. Another point to make is if you have the resources to wait that long.
Local, Regional or World Wide?
How geographically focused does your online marketing campaign need to be? Depending on the market and scope of your business, it is worth considering the settings required to shift gears for SEO and PPC.
Pay-per-click options gives your commercial laser-targeted visibility. This is a strong advantage held over SEO strategists who must alter their entire approach if a campaign wants to go local.
As the example below demonstrates, an enterprise can set their own geographical radius for ad space and speculate to accumulate. Regions can be broken down into suburbs, cities, states or countries. PPC campaigns do need upfront payment, but they carry an inherent advantage to justify that cost.
Should a plumber, electrician, basketball association or pub want to drive their online marketing, then PPC campaigns can pinpoint the consumer base with tremendous efficiency. Those that stick to SEO have to engage in local SEO practices.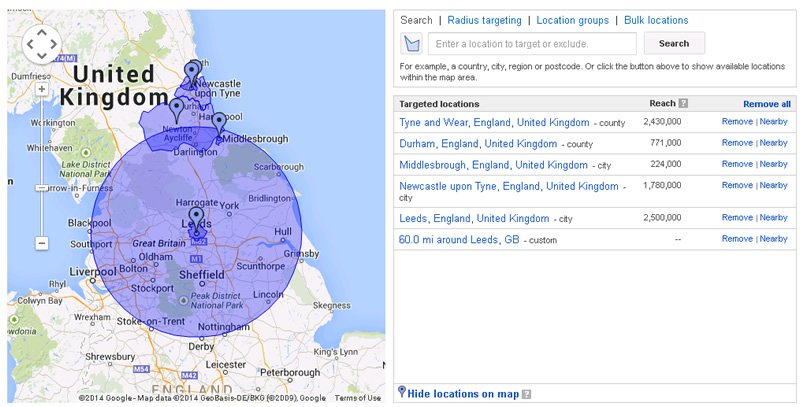 That will require the developer to switch all of the following:
Content
Reviews
Keywords
Inbound links
Headings
Tags
Each of these must be in accordance to the demands of the local market. A quality SEO campaign will ensure that customers come flocking from all manner of locations. Yet a local SEO strategy has to begin from the ground up, utilizing all of the unique sensibilities that are involved in a particular region.
If local is key for your campaign, make use of the geo-targeting tools at the disposal of PPC campaigns. Google AdWords especially is focused at helping advertisers target by geographic location.
Survey the Options
Unless you have the knowledge, expertise and background to conduct an SEO or PPC campaign internally, you will have to conduct some research. In both SEO and PPC best practices are constantly changing so it is important to be well researched with the currently successful tactics.
Find out which companies offer the best rates to give you the best results. That might include investing more than your operation had originally forecasted, but if the final dividend increases the ROI, it will be money well spent.
The Benefit of the 1-2 Punch
The reality is many enterprises will use both SEO and PPC in tandem. While search engine specialists are expertly changing their keywords, tags, headlines, social media, multimedia integration with inbound links, the PPC folks are purchasing ad space.
They compliment each other to ensure that long-term targets are insured against short-term fixes when search engines change their algorithms. This is the inherent danger of just opting for SEO.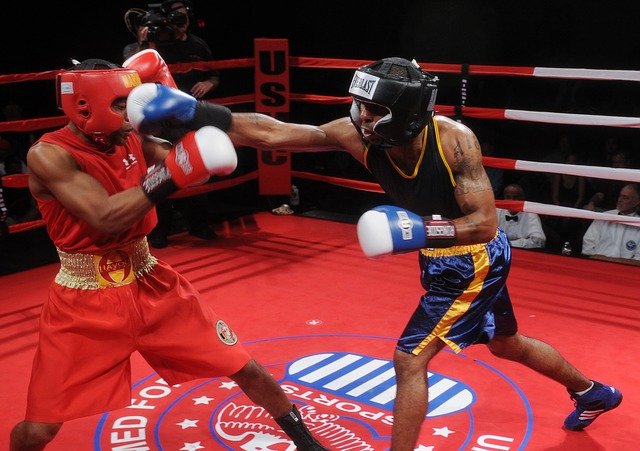 All of these Google updates forced online marketers to change or reassess their practices over the past few years:
Pirate update
Payday update
Panda update
Penguin update
Exact Match Domain (EMD) update
Mobile friendly update
Hummingbird
Some of these have been more innocuous than others where business has stayed on a linear path, but others have forced dramatic change. Again, this is why it is so important to be well researched in the area. These changes can dramatically effect best practices.
Running an SEO campaign in parallel with PPC projects provides the business the following:
Greater flexibility
More scope for experimentation
Wider integration
More exposure to various platforms
Now it is clear many operations don't have the time or budget to embark on two campaigns like this. In the event that one is engaged and becomes successful, then use those funds to invest in the alternative option.
Conclusion
If you were seeking a direct response to this question, then you will be disappointed. Every single webpage and domain carries a unique set of circumstances and they have to factor into the equation.
When you boil down the great divide between PPC and SEO, one option includes long-term dividends that is considered to be more affordable. The other happens to be PPC, but that avenue has benefits that SEO specialists take months to yield the same results.
Opting for a 1-2 punch that is inclusive of a 6-12 month SEO strategy alongside a PPC campaign that buys ad space is strongly advised. Before any step is taken, test out some keywords in your niche through a PPC campaign. If that stalls and doesn't give a satisfactory ROI, explore all the SEO possibilities that are waiting out there.
What has been your experience with SEO and PPC campaigns? Did your niche respond better to one over the other and has your view changed as a result?

Passionate about writing and sharing my experiences with others. I have a keen interest in marketing and the growth of digital.