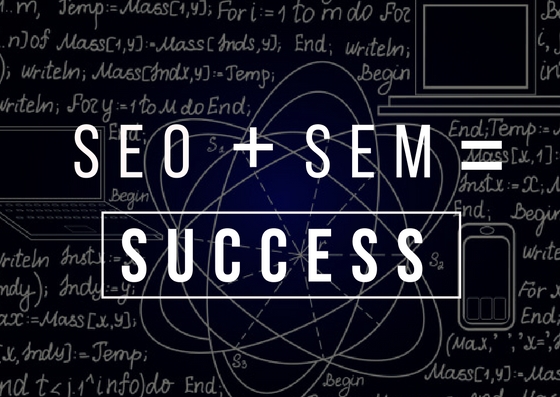 Finding digital solutions for your small business is at the forefront of cost-effective methods that allow you to stay competitive and relevant in a rapidly evolving business-scape. Through a methodical and detailed approach, a combination of search engine optimisation and search engine marketing will provide substantial growth and success.
In many instances, SEO and SEM are discussed in comparison or even as a single being. It is important to clarify that SEO is actually a part of SEM and in order to get the most out of them, it is important to use them in conjunction with one another. When used together, the campaigns can work in conjunction with each other to provide results on a regular basis that ensures all areas of the audience are reached.
Search Engine Optimisation (SEO)
Search engine optimisation is an organic technique used to improve your website's performance in the search engine results pages. It is aimed at increasing the websites exposure as well as customer experience to improve traffic, conversion rates and the brand awareness and equity throughout.
Google My Business account
This is a really simple wayfor your small business to be seen in search engines. It makes your business recognisable to Google meaning that when people search for your small business or similar, it will show up in the results with contact details and an address so that people can easily get in touch.
An additionally step in this is to claim your business's location on Google Maps so that customers know where to go, especially if you are a store selling products.
Keywords
Keywords are about knowing your customers, what they want and what they search for. Having the right keywords is going to ensure that your small business remains competitive and appears in the search engine results when it is relevant. Keywords should be strategically placed in titles and throughout content so as to attract the attention of the Google algorithm.
It is important that the website appears in relevant searches providing relevant information so that it has a strong profile and you are visible to the consumers who actually want your product or service.
Blog
Blogs are designed to provide valuable information for customers so that they can learn more about your small business, products and the industry. Additionally, they are extremely beneficial for building a strong link profile and increasing the site's relevance.
Because blogs are full of content it provides a great opportunity to use keywords that are regularly used in search and to build a strong link profile both internally and externally. All of these aspects contribute to optimisation success.
Social media
Have social media accounts for your small business provides it with another avenue to not only appear in the search engine results pages but also to reach the audience with information. Linking to your social media sites and including information further builds your website and company profile.
Benefits of SEO
Having your website optimised for search engine results makes your website far more powerful and is also extremely beneficial in your marketing efforts as people are now more easily able to find it in a quick Google search.
Through a connection with a broader customer ranger, you are able to gain better insights into the type of people who want your product and those who engage in general. Once you have a strong search engine optimisation base, then you are able to rise up the ranks through regular updates and improvements to beat competitors.
Overall, having an SEO plan and team in place will;
Ensure a more user-friendly site making it easier for people to identify the products and service you offer'
Gain you more traffic and more of the right traffic as well
Both of which lead to higher conversion rates leading to sales, revenue and profits
A greater reach to new markets or more depth within these markets
An overall increase in brand awareness and equity
Search Engine Marketing (SEM)
SEO is a part of search engine marketing but SEM also includes paid efforts. This means things like paid search, pay-per-click advertising, display advertising and remarketing ads are all a part of search engine marketing.
These paid efforts are designed to complement the work that is done by the SEO team to further build on the developments and also rankings of the website.
Paid advertising is able to target a specific consumer group or people at a specific time of day in order to best take advantage of who is, or when people are, looking for your product. By doing this, the organic search engine optimisation is built upon and the efforts are further justified.
Benefits of SEM
Search engine marketing through paid efforts ensures that your small business is getting the visibility that it needs towards those who desire your product or service the most. It guarantees that you gain exposure through targeted campaigns in order to remain competitive. It is particularly useful for a small business that may not have the domain authority of more established businesses in the industry.
The flexibility of SEM is a big benefit as companies are able to adjust their budget at any time and have almost any budget able to achieve positive results. The ability to target locations, times and specific consumer types is a great feature of the paid advertising and one of the reasons it is so successful in conjunction with SEO.
SEM and SEO are stronger together
SEO is designed to provide a really strong backbone for your small business in an online capacity but it takes time and requires patience before it will be successful. SEM, on the other hand, provides fast results where you may see success straight away but it is ultimately useless without a solid foundation backing it up.
It is pointless spending your marketing dollars on a paid advertising campaign if people are going to visit a website that is difficult to use and doesn't lead them to the product they were after. This is why using the two in conjunction is the best way to achieve results.
Ultimately, both of these techniques share the same goal, and that is driving traffic to your site. They do have different timeframes for success but a positive outcome requires a combination of the two. With a consistent SEO effort and the targeted campaigns of paid advertising not only will you be able to convert sales but you will retain customers for the long run and it will make future campaigns easier.

Passionate about writing and sharing my experiences with others. I have a keen interest in marketing and the growth of digital.